Bachelor in Information Management
Data-based decisions for tough challenges.
BACHELOR DEGREE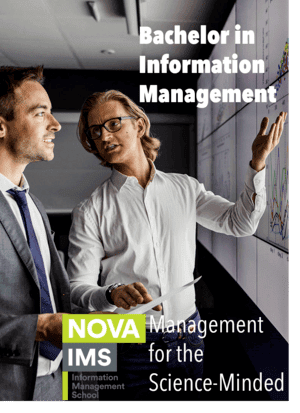 " Upcoming Edition "
11 SEP 2023

Call for applications 3rd round 03 Apr – 26 May 2023

Duration 31 weeks, full-time

Language English

Format On campus

Place Lisbon

 Award Incentive prize

I looked for a bachelor degree that would allow me to deepen my knowledge in the areas of management and programming, and NOVA IMS gave me exactly what I was looking for, getting to go even further in my goals and objectives. The Information Management course has spread my borders through the English classroom model, which has helped me to better understand the foreign language I was not used to, leaving me more confident to enter a more comprehensive job market.
I also mention the importance of group work, which has helped me to develop relations with colleagues, making me more comfortable in this new environment. In conclusion, NOVA IMS has a program that creates professionals for a relevant area, which is constantly growing.
Career outcomes
WHERE WILL AN INFORMATION MANAGEMENT DEGREE FROM NOVA IMS TAKE ME?
Business Analyst / Business Process Manager / Expert in Decision Support Systems / Analytical Marketing Specialist / Specialist in Market Research / Expert in developing strategies for CRM / Risk Analyst / Trainee marketing manager / IT first line analyst / Finance test analyst/ IT manager / IT consultant
Nicknamed as the sexiest job of the 21st century by the American magazine Forbes, the multidisciplinary training in Information Management is adjusted to global labor market requirements. NOVA IMS graduates go on to work with leading companies in Portugal and internationally. The leadership, professional, technical and personal expertise developed during your degree will provide you with a very broad range of employment and study options when you graduate.
The shortage of professionals in Information Management is significant in Portugal, but also internationally.
With 98.9%* employability rate the most influential companies recruit NOVA IMS Information Management graduates.
* Data published in 2020 by the Infocursos Portal of the Ministry of Higher Education.
Ready to start
your journey?
Join NOVA IMS's professional alumni network
Once you complete a NOVA IMS program, you join NOVA IMS's alumni network, an outstanding global community of talented leaders who will support you long-term.
We Offer Elite Programs To Suit All Experience Levels