Bachelor in Information Management
Data-based decisions for tough challenges.
BACHELOR DEGREE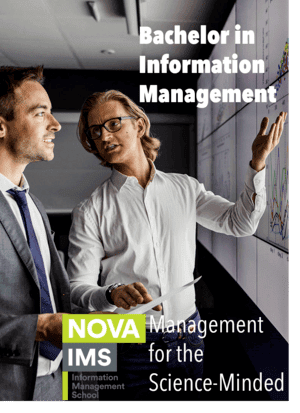 " Upcoming Edition "
27 SEP 2022

Call for applications 4th phase 15-27 August 2022

Duration 31 weeks, full-time

Language English

Format On campus

Place Lisbon

 Award Incentive prize

I looked for a bachelor degree that would allow me to deepen my knowledge in the areas of management and programming, and NOVA IMS gave me exactly what I was looking for, getting to go even further in my goals and objectives. The Information Management course has spread my borders through the English classroom model, which has helped me to better understand the foreign language I was not used to, leaving me more confident to enter a more comprehensive job market.
I also mention the importance of group work, which has helped me to develop relations with colleagues, making me more comfortable in this new environment. In conclusion, NOVA IMS has a program that creates professionals for a relevant area, which is constantly growing.
The current evolution and expansion of technology is extremely rapid and most policies and procedures are not designed to operate at the same rate of change. Innovative and flexible approaches to supporting improved information management tools could save money and time both in their implementation and use.
Grounded in the scientific method. Backed by a quantitative foundation. And refined in the real world. NOVA IMS's Information Management (IM) program was established to give NOVA IMS students a timeless advantage: management and practical business skills to make ideas matter and strong IT skills to thrive in the industries of the future.
The Bachelor in Information Management is home to future leaders of the IT industry. Together with your outstanding fellow students from around the world, you will learn the application of technology within the modern workplace across diverse industries. Everything on the IT Management for Business program is focused on the application of practice, enabling you to understand the real life challenges faced by industry.
With The Bachelor in Information Management I will be equipped to respond to the challenges that lie beyond digital business transformation and meet the needs of innovative employers. / I will get deep insights into managerial issues faced by technology-intensive organizations. / I will gain an all-round knowledge of computing systems and how information is derived, managed and exploited for commercial benefit. / I will benefit from a bespoke careers and employer engagement program. NOVA IMS graduates go on to work with leading companies in Portugal and internationally. / I will be able to develop an entrepreneurial mindset – seeing business challenges as opportunities – whilst linking cutting-edge technology with innovative business practices to create and capture value. / I will participate in business-focused workshops, industrial guest lectures and scenario-based challenges.
How does Amazon work? How do you develop technology to make organisations more productive? If you're interested in both computer science and business, this flexible degree plays to your strengths.
NOVA IMS's Information Management (IM) program is intended for all high school finalist students who seek appropriate education in the current knowledge society enabling them to manage the analytical processes of organizations and decision support systems.
No previous technology experience is required to join the program, only a passion for harnessing innovation and creativity to improve the management of IT.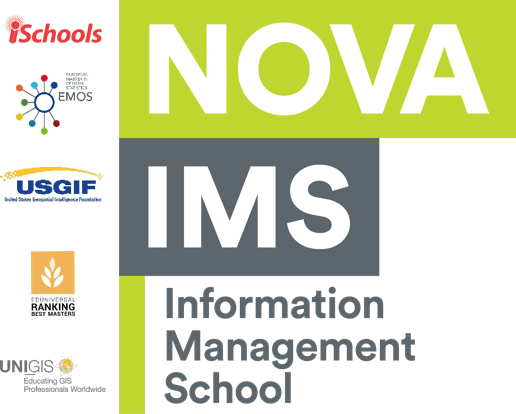 NOVA IMS is recognized by Celonis, world leader in Process Mining, as Academic Center of Excellence along with London School of Economics, Central Michigan University, Arizona State University.
NOVA IMS was and is a pioneer in converting data into value, with more than 30 years of experience and success accumulated in this area. NOVA IMS is the information management school of NOVA University Lisbon, with nationally and internationally recognized pedagogical skills in "data science and analytics" and "information systems". Among universities founded less than 50 years ago and across most of the significant World University Rankings 2021 [Financial Times, QS, Eduniversal, U-Multirank, Times Higher Education, Leiden Ranking], NOVA University Lisbon stands in the European TOP 10.
NOVA IMS programs are internationally accredited, and several Masters and Post Graduations have been classified in positions of clear leadership by Eduniversal [the international agency that publishes annual ranking of the best Masters and MBAs in the world]: Master in information Management ranked 1st in the world, Master in Statistics and Information Management ranked 2nd in the world, Postgraduate in Information Management and Business Intelligence in Healthcare ranked 3rd in the world,
Master in Data Driven Marketing ranked 3rd in Western Europe are examples of such excellent programs to name just a few, placing it among the world leading schools of information management. NOVA IMS Master of Science in Geospatial Technologies has been selected by the European Commission as one of the most excellent Master Programs in Europe, and NOVA IMS Bachelor has the 1st Degree in Europe to be accredited in Information Systems by ABET. NOVA IMS was the 1st institution in the Iberian Peninsula to join iSchools, an international organization that brings together leading universities in research and teaching of information sciences. It is the 1st university outside the USA to achieve the GEOINT [Geospatial Intelligence] accreditation by the United States Geospatial Intelligence Foundation (USGIF), and is accredited member of UNIGIS, an international network of leading schools in Geographic Information Systems.
Career outcomes
WHERE WILL AN INFORMATION MANAGEMENT DEGREE FROM NOVA IMS TAKE ME?
Business Analyst / Business Process Manager / Expert in Decision Support Systems / Analytical Marketing Specialist / Specialist in Market Research / Expert in developing strategies for CRM / Risk Analyst / Trainee marketing manager / IT first line analyst / Finance test analyst/ IT manager / IT consultant
Nicknamed as the sexiest job of the 21st century by the American magazine Forbes, the multidisciplinary training in Information Management is adjusted to global labor market requirements. NOVA IMS graduates go on to work with leading companies in Portugal and internationally. The leadership, professional, technical and personal expertise developed during your degree will provide you with a very broad range of employment and study options when you graduate.
The shortage of professionals in Information Management is significant in Portugal, but also internationally.
With 98.9%* employability rate the most influential companies recruit NOVA IMS Information Management graduates.
* Data published in 2020 by the Infocursos Portal of the Ministry of Higher Education.
Ready to start
your journey?
Join NOVA IMS's professional alumni network
Once you complete a NOVA IMS program, you join NOVA IMS's alumni network, an outstanding global community of talented leaders who will support you long-term.
We Offer Elite Programs To Suit All Experience Levels