Bachelor in Information Systems
Solving problems in a connected world.
BACHELOR DEGREE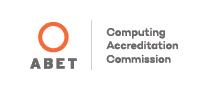 1st Degree in Europe to be accredited in Information Systems by ABET.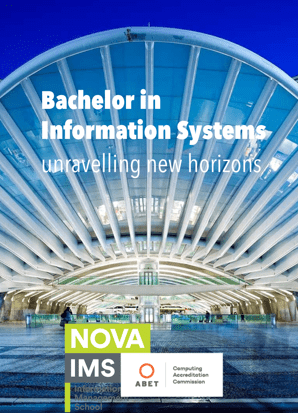 " Upcoming Edition "
11 SEP 2023

Call for applications 3rd round 03 Apr – 26 May 2023

Duration 31 weeks, full-time

Language English

Format On campus

Place Lisbon

 Award Incentive prize

As a high school merit student, at the time of choosing the course I wanted to follow, I tried to choose a course that would give me the best opportunities and quality of teaching. NOVA IMS was the perfect choice, standing out for its prestige, academic excellence, focus on innovation and close relationship with the labor market, in an area that is constantly growing. The Degree in Information Systems and Technologies, which, in addition to technological skills such as programming, combines this with business and social sciences, is an extremely complete, dynamic and challenging course, that has not failed to surprise me from the first moment. I strongly recommend NOVA IMS not only at the level of teaching, but for its welcoming and family atmosphere, which motivates me continuously.
Career outcomes
WHERE WILL AN INFORMATION SYSTEMS DEGREE FROM NOVA IMS TAKE ME?
Systems Analyst / Specialist in development of information systems / Director of Information Systems / Project Manager Information Systems / Information Systems Consultant / Database Administrator and Programmer / Decision Support Systems Consultant / BPM Consultant – Business Process Engineering / Expert in Implementation of Information Systems
As the world becomes increasingly interconnected, our students are in high demand. Graduates of the IS program are recruited by a wide range of employers in global consulting, manufacturing, consumer products, finance, and technology. ALTICE, EUROSTAT, KPMG,  MICROSOFT, NOS, ORACLE, Pwc, REUTERS, ROFF, SONAE, TAP Air Portugal, and VODAFONE are just a few of the companies that recruit here each year.
There has been a strong and growing job market for IS graduates, and you will find our alumni working with big consulting firms, major software and tech companies, start-ups, and government agencies.
With 98.1%* employability rate the most influential companies recruit NOVA IMS Information Systems graduates.
* Data published in 2020 by the Infocursos Portal of the Ministry of Higher Education.
Ready to start
your journey?
Join NOVA IMS's professional alumni network
Once you complete a NOVA IMS program, you join NOVA IMS's alumni network, an outstanding global community of talented leaders who will support you long-term.
We Offer Elite Programs To Suit All Experience Levels