Bachelor in Information Systems
Solving problems in a connected world.
BACHELOR DEGREE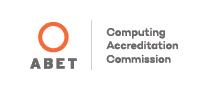 1st Degree in Europe to be accredited in Information Systems by ABET.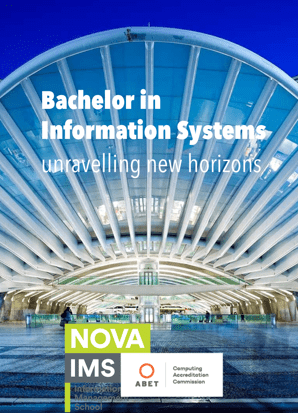 " Upcoming Edition "
27 SEP 2022

Call for applications 4th phase 15-27 August 2022

Duration 31 weeks, full-time

Language English

Format On campus

Place Lisbon

 Award Incentive prize

As a high school merit student, at the time of choosing the course I wanted to follow, I tried to choose a course that would give me the best opportunities and quality of teaching. NOVA IMS was the perfect choice, standing out for its prestige, academic excellence, focus on innovation and close relationship with the labor market, in an area that is constantly growing. The Degree in Information Systems and Technologies, which, in addition to technological skills such as programming, combines this with business and social sciences, is an extremely complete, dynamic and challenging course, that has not failed to surprise me from the first moment. I strongly recommend NOVA IMS not only at the level of teaching, but for its welcoming and family atmosphere, which motivates me continuously.
NOVA IMS's Information Systems (IS) program combines aspects of computer science, information technology, and business management with a humanities and social sciences-based education to provide you with an uncommonly well-rounded portfolio. You will be uniquely positioned for an impactful career in an increasingly digitized and connected world, able to adapt to rapid evolution across industries.
Want to use technologies to benefit companies, governments, and society? NOVA IMS offers one of the world's best undergraduate IS program, 1st Degree in Europe to be accredited in Information Systems by ABET*, and will help you do just that—there is no better place to become a tech leader than NOVA IMS.
As an Information Systems program, you will select a focused concentration to provide a deep dive into a subject that interests you.
*ABET is a North American accreditation agency, world leader in quality certification and in encouraging innovation in academic programs in applied science, computing, engineering and technology related fields.
With The Bachelor in Information Systems I will acquire a set of tools affecting business processes such as E-Commerce, Supply Chain Management (SCM), Enterprise Resource Planning (ERP), Knowledge Management Systems (KMS) and Customer Relationship Management (CRM) in all key areas of expertise to create value in businesses. / I will learn the skills required to plan and organize all data processing, storage and recovery, as well as design and build computer APPS, or to create and manage a computer network or other information systems. / I will become recognized as a Professional – Certification IPMA and ITIL Foundation.
Did you enjoy computer science or more technical courses in high school, but are mostly interested in the practical and social applications of technology? Do you have a passion for business and want to use advanced technology to change how companies work? Do you want to learn how data and technology can be harnessed for social good?
Our Bachelor in Information Systems is aimed at all high school finalist students, who are looking for a college education that allows them to master Information Technologies in the operational management of the organizations, the creation of new products, services and business processes.
A degree in Information Systems aims at training professionals who are characterized by the ability to make the connection between the different business areas and the area of information systems. Being experts in analysis, design and implementation of information systems whose main task to improve the quality of decision making in organizations.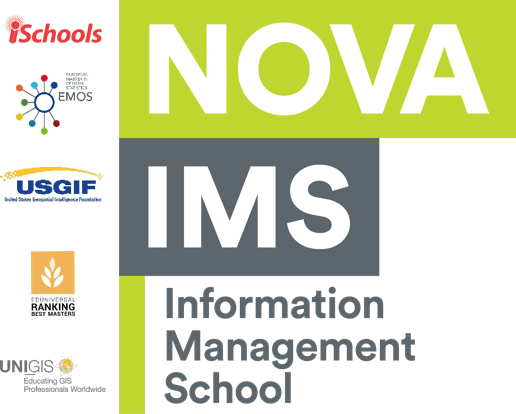 NOVA IMS is recognized by Celonis, world leader in Process Mining, as Academic Center of Excellence along with London School of Economics, Central Michigan University, Arizona State University.
NOVA IMS was and is a pioneer in converting data into value, with more than 30 years of experience and success accumulated in this area. NOVA IMS is the information management school of NOVA University Lisbon, with nationally and internationally recognized pedagogical skills in "data science and analytics" and "information systems". Among universities founded less than 50 years ago and across most of the significant World University Rankings 2021 [Financial Times, QS, Eduniversal, U-Multirank, Times Higher Education, Leiden Ranking], NOVA University Lisbon stands in the European TOP 10.
NOVA IMS programs are internationally accredited, and several Masters and Post Graduations have been classified in positions of clear leadership by Eduniversal [the international agency that publishes annual ranking of the best Masters and MBAs in the world]: Master in information Management ranked 1st in the world, Master in Statistics and Information Management ranked 2nd in the world, Postgraduate in Information Management and Business Intelligence in Healthcare ranked 3rd in the world,
Master in Data Driven Marketing ranked 3rd in Western Europe are examples of such excellent programs to name just a few, placing it among the world leading schools of information management. NOVA IMS Master of Science in Geospatial Technologies has been selected by the European Commission as one of the most excellent Master Programs in Europe, and NOVA IMS Bachelor has the 1st Degree in Europe to be accredited in Information Systems by ABET. NOVA IMS was the 1st institution in the Iberian Peninsula to join iSchools, an international organization that brings together leading universities in research and teaching of information sciences. It is the 1st university outside the USA to achieve the GEOINT [Geospatial Intelligence] accreditation by the United States Geospatial Intelligence Foundation (USGIF), and is accredited member of UNIGIS, an international network of leading schools in Geographic Information Systems.
Career outcomes
WHERE WILL AN INFORMATION SYSTEMS DEGREE FROM NOVA IMS TAKE ME?
Systems Analyst / Specialist in development of information systems / Director of Information Systems / Project Manager Information Systems / Information Systems Consultant / Database Administrator and Programmer / Decision Support Systems Consultant / BPM Consultant – Business Process Engineering / Expert in Implementation of Information Systems
As the world becomes increasingly interconnected, our students are in high demand. Graduates of the IS program are recruited by a wide range of employers in global consulting, manufacturing, consumer products, finance, and technology. ALTICE, EUROSTAT, KPMG,  MICROSOFT, NOS, ORACLE, Pwc, REUTERS, ROFF, SONAE, TAP Air Portugal, and VODAFONE are just a few of the companies that recruit here each year.
There has been a strong and growing job market for IS graduates, and you will find our alumni working with big consulting firms, major software and tech companies, start-ups, and government agencies.
With 98.1%* employability rate the most influential companies recruit NOVA IMS Information Systems graduates.
* Data published in 2020 by the Infocursos Portal of the Ministry of Higher Education.
Ready to start
your journey?
Join NOVA IMS's professional alumni network
Once you complete a NOVA IMS program, you join NOVA IMS's alumni network, an outstanding global community of talented leaders who will support you long-term.
We Offer Elite Programs To Suit All Experience Levels