" Upcoming Edition "
27 SEP 2022

Call for applications 4th phase 15-27 August 2022

Duration 31 weeks, full-time

Language English

Format On campus

Place Lisbon

 Award Incentive prize

During the bachelor degree I was able to acquire skills that fit the current business requirements, because, in addition to the excellence that NOVA IMS has accustomed us to and instilled, We also develop strong technical and soft skills that place us in an excellent market position. Studying at NOVA IMS is to represent a faculty at the forefront of technological development, which challenges itself every day to provide its students with an excellent education, focused on research and innovation. In addition to the academic component, the family environment offers a very close relationship between colleagues and teachers.
Data science is driving economic growth, public policy and corporate strategy all over the world, and the ability to manage and interpret data is rapidly becoming an essential skill in many organisations and industries. This transformation is generating a substantial unmet need for graduates who are not only technically proficient in analyzing data but who also know how to responsibly collect and manage data, and use data to make decisions and discoveries, think critically, and communicate effectively.
The Data Science undergraduate curriculum from NOVA IMS is an innovative interdisciplinary program designed with industry and offers an engaging, flexible, and high-quality experience. It emphasizes modern statistical and computational methods, strong communication skills, and extensive hands-on experience with the analysis of data from real, interdisciplinary problems.
The Bachelor in Data Science has been designed to train future professionals with skills to analyze a vast amount of data; understand, develop and use models, algorithms and the most advanced techniques in the field of data science, to analyze and extract knowledge from Big Data.
With The Bachelor in Data Science I will be equipped to to draw sound conclusions from data in context, using knowledge of statistical inference, computational processes, data management strategies, domain knowledge, and theory. / I will understand the theoretical foundations of statistics, machine learning and artificial intelligence methods. / I will identify and understand the most efficient algorithm for each specific problem, design and develop state-of-the-art data science algorithms. / I will learn to carry out analyses of data through the full cycle of the investigative process in scientific and practical contexts. / I will gain a deep appreciation of the human, social, and institutional structures and practices that shape technical work around computing and data, as well as an understanding of how data, data analytics, machine learning, artificial intelligence, and computing permeate and shape our individual and social lives.
Whether you call them Data scientists or Data Gurus or by some other fancy name, the fundamentals remain the same! The world is in acute need of smart and creative people who can dive deep inside the ocean of Big Data and save the world from ignorance and provide valuable insights into businesses and help the World Economy grow!
Our Bachelor in Data Science is aimed at all high school finalist students, who look for in-depth training on the latest data science and artificial intelligence techniques, based on automatic logic reasoning, methods and techniques of data management as well as in machine learning applications. The course aims at training highly specialized professionals to help organizations take advantage of the huge amount of their data.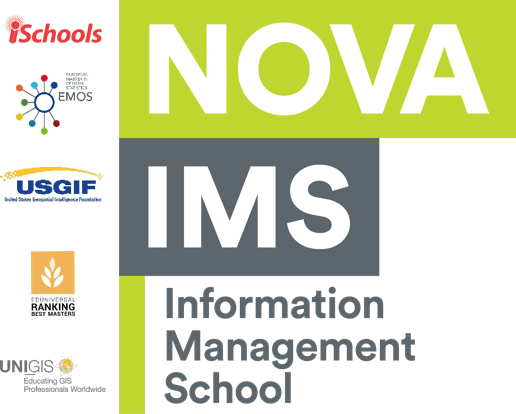 NOVA IMS is recognized by Celonis, world leader in Process Mining, as Academic Center of Excellence along with London School of Economics, Central Michigan University, Arizona State University.
NOVA IMS was and is a pioneer in converting data into value, with more than 30 years of experience and success accumulated in this area. NOVA IMS is the information management school of NOVA University Lisbon, with nationally and internationally recognized pedagogical skills in "data science and analytics" and "information systems". Among universities founded less than 50 years ago and across most of the significant World University Rankings 2021 [Financial Times, QS, Eduniversal, U-Multirank, Times Higher Education, Leiden Ranking], NOVA University Lisbon stands in the European TOP 10.
NOVA IMS programs are internationally accredited, and several Masters and Post Graduations have been classified in positions of clear leadership by Eduniversal [the international agency that publishes annual ranking of the best Masters and MBAs in the world]: Master in information Management ranked 1st in the world, Master in Statistics and Information Management ranked 2nd in the world, Postgraduate in Information Management and Business Intelligence in Healthcare ranked 3rd in the world,
Master in Data Driven Marketing ranked 3rd in Western Europe are examples of such excellent programs to name just a few, placing it among the world leading schools of information management. NOVA IMS Master of Science in Geospatial Technologies has been selected by the European Commission as one of the most excellent Master Programs in Europe, and NOVA IMS Bachelor has the 1st Degree in Europe to be accredited in Information Systems by ABET. NOVA IMS was the 1st institution in the Iberian Peninsula to join iSchools, an international organization that brings together leading universities in research and teaching of information sciences. It is the 1st university outside the USA to achieve the GEOINT [Geospatial Intelligence] accreditation by the United States Geospatial Intelligence Foundation (USGIF), and is accredited member of UNIGIS, an international network of leading schools in Geographic Information Systems.
Career outcomes
WHERE WILL A DATA SCIENCE DEGREE FROM NOVA IMS TAKE ME?
Big Data Analyst / Data Scientist / Data Architect / Solution Architect / Data Analyst Manager / Data Engineer / Data Miner / Statistician / Business Intelligence Analyst or developer / Specialist in Artificial Intelligence Systems/ Specialist in Machine/Deep Learning / IT consultant
As Data Science is an emerging field, there is an established strong market demand for suitably skilled data scientists world across and data science skills are increasingly being sought across the sectors, particularly by the finance and accounting industries, supermarkets, online retailers, and Health Services.
According to today's global reports (Mckinsey Global Institute, PwC, EU Commission, BHEF, etc.)"the shortage of data science and analytics talent is pretty evident."

With high* employability rate the most influential companies recruit NOVA IMS Data Science graduates.
* The course started in 2020. It is still early to get employment rate data.
Ready to start
your journey?
Join NOVA IMS's professional alumni network
Once you complete a NOVA IMS program, you join NOVA IMS's alumni network, an outstanding global community of talented leaders who will support you long-term.