Planning timeline for internship
If you want to prepare well for your future internship, you need to plan well. Your planning timeline toolkit is the best way to make you sure your success is halfway.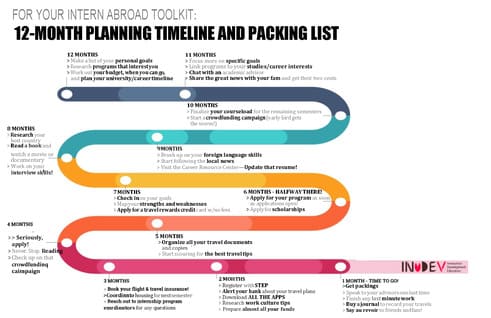 So…now what? You've decided you want to intern abroad, but you need the next steps. You want a clear plan, with clear steps. You're all about organization— or maybe you aren't, either way this planning timeline and printable packing list will be your lifeline throughout these early stages of prep to intern abroad.
Let the eager countdown to your intern trip begin!
There you have it folks. A year of your life spent planning the internship trip of a lifetime. The list-making, frantic googling, endless reading, and fraught phone calls may seem like a lot laid out on paper like this, but trust us, it's totally worth it. We can give you tailored support.
Step 1
Download this PDF and print it on an A3.
Step 2
For each of the 12 months determine the level of progress your planning reached on that specific stage.
Step 3
Now look at the bigger picture: in which stage of the planning timeline can you find your initiatives with the highest fulfillment? This should give you a sense of whether your organization is delayed, on time or in advance.
Step 4
Agree on what needs to be improved upon in the first draft and divide tasks, roles and responsibilities.
Step 5
Take concrete actions. We can give tailored support.