INODEV & PBS association
INODEV is the exclusive representative of Porto Business School.
---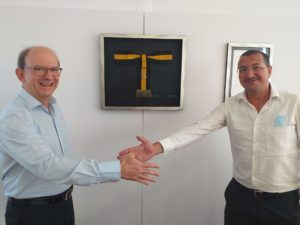 The meeting between INODEV Founder CEO, Issam Oueslati and Dean of Porto Business School PBS, Ramón O'Callaghan in Porto concluded with an agreement to seal a Memorandum of Understanding between the parties to foster the new cooperation.
With consistent presence in the Financial times Rankings since 2011, Porto Business School is among the best European Business Schools and one of the top 30 business schools in Executive Education. PBS is a BSIS labelled school which makes significant contribution to the economy of Portugal and to the social and intellectual fabric of the region. The school has just been distinguished, for the 8th consecutive year, in the Eduniversal Best Masters ranking 2021, as one of the schools with the best MBA and Postgraduate programmes in the world.
A business school created "by companies and for companies", PBS is a unique governance model, result of an active partnership between the University of Porto and 38 major companies, national and multinational, allowing the perfect balance between the quality and rigor of the academy and the real corporate world and turning PBS into a true lab to explore how to best apply top notch management concepts to the real business reality.
Upon identification of the commonality of interests in entrepreneurial spirit and ability to innovate for personal and organizational development and transformation. INODEV and PBS intend to cooperate in realizing their expectation for improving the quality of management through advanced education and training future leaders in Porto one of the Europe's fastest growing tech hubs, according to The State of European Tech 2018, best European destination, according to European Consumers Choice, and one of the top 40 hot destinations, according to the Guardian newspaper. In addition to that, INODEV and PBS intend to cooperate in fostering reinforcement of the innovation environment in Tunisia and in upgrading innovation skills.

While INODEV has become the exclusive representative of Porto Business School in Tunisia and is devoted to make all efforts for its visibility in the region, INODEV & PBS have pledged to provide exclusive scholarships for INODEV's customers.
---
By INODEV - Last updated on July 21, 2020